Dated 1668 but standing on an earlier site, situated in the busy yet tranquil tourist centre of Ptuj, just 30 seconds from the majestic River Drava.
Originally the town silversmith's residence, this is a large and unique property on four levels, suitable for residential and/or commercial use.
All you have to do to obtain this fine building at the giveaway price of 1000 euros is forge the destiny of Slovenia's oldest town for 60m UK customers and 1.5bn English-speaking customers worldwide.
HOW IT WORKS...
Step One: You decide what would probably happen if you searched for Ptuj on the internet in the UK or USA.
Step Two: You become the outright holder of the internet domain name
www.ptuj.co.uk
This domain is well-blessed to appear in British and other English language PC searches for Ptuj. You will reign like a feudal lord, extracting tithes from all in Ptuj seeking business via web presence in perfidious Albion and its linguistic dominions.
Step Three: Along with the awesome responsibility of steering the good ship www.ptuj.co.uk to a safe harbour comes the option to buy a tourist town centre headquarters to go with your Anglo-targeted Google-friendly historic tourist town domain name. And the price to the lucky domain owner? 1000 euros only!!
Your right to buy at this price will be legally guaranteed by contract.
The starting price for www.ptuj.co.uk is here shown in relationship to the length of the option.
Very solid town house: 12 spaces altogether, cool in summer.
Central heritage area. Two street-facing spaces with individual entrances.
Balcony area with excellent views of Ptuj castle. Partly covered yard to the rear. Spacious cellar.
Excellent electrical infrastructure.
DSL broadband.
Town gas central heating.
Mains water and drainage.
Huge roof space with potential for expanded living area, as well as conversion to cafeteria, studio, or venue.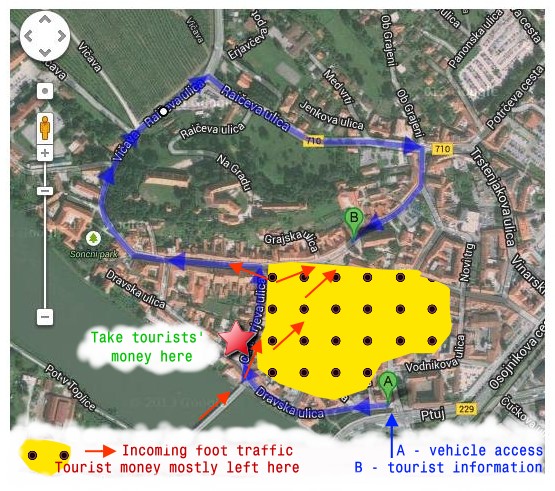 Town layout makes it almost impossible for tourists not to pass.
2 shops / 1 shop + double garage options.
Surrounded by cheap and free parking.
Reliable snow clearance when needed.
Shops, schools, amenities, museum, castle all within easy walking distance.
View to a smell, showing balloon parking area and tourist bottleneck. 30 seconds from the footbridge and scenic Ptuj Riviera waterfront, your 1000 euro premises stands at a prime tourist location which the majority of visitors reach prior to seeing the Tourist Information Centre, hotels, Museum, Catholic shop, Monasteries, gift shops, cinema, theatre, ice cream parlours, bars, cafes, or Castle.
Only serious forgers of destiny for historic Slovenian towns need apply. However, no previous destiny forging experience is needed.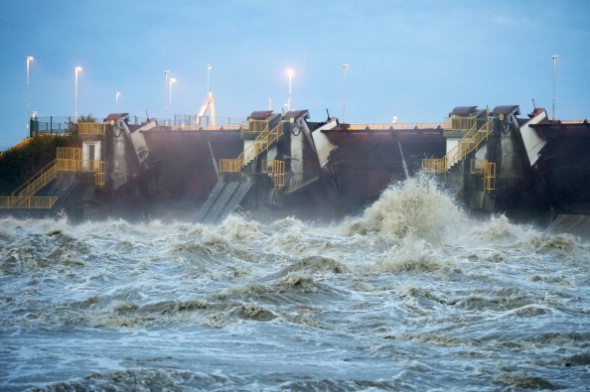 In case you are from Somerset or Sardinia, it has to get up to the top of this dam at Markovci before Ptuj is in trouble.
Overview of the local social economy.
Please note that this is an offer about a domain, which involves a house, not an offer about a house, which does or doesn't involve a domain. So please don't bring people to trample all over my house, until you have taken adequate steps to acquire www.ptuj.co.uk. If you can't deal with it that way around then this offer is not for you. All reasonable offers should be made in writing and will be treated in confidence.